'Tombstoning' by-law stops East Yorkshire's free runners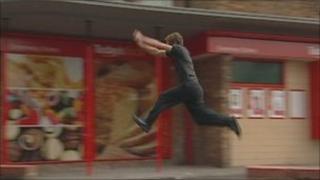 A group of free runners in Hornsea say their activities have been halted by a by-law which bans jumping into the sea from a height.
The group, which performs acrobatic leaps from walls, says it has been stopped and threatened with £500 fines over "tombstoning" laws.
East Riding of Yorkshire Council brought in the restriction following a number of incidents along the coast.
The council said it would meet with the group to discuss the situation.
James Revill, 19, has been taking part in free running in Hornsea for the last five years. He said the threat of a fine had stopped him and his friends from carrying out their hobby.
Mr Revill said there was a difference between free running and leaping off sea walls.
"Whatever we do is controlled in our environment, controlled within our capabilities, he said.
"I don't think it's right. I think the council has put this by-law in place and not really talked to us, a community that's been here for five years, which the council knew about."
The council introduced the by-law last month after a number of recent accidents, including a 14-year-old boy who was seriously injured after a fall from Bridlington harbour wall in 2009.
East Riding of Yorkshire Council said it was arranging to talk with the free runners and did not want to comment further before the meeting.
The BBC understands that the council intends to speak to the town's foreshore officers to ask them to exercise common sense before applying the by-law.