Official song for Hull's community football competition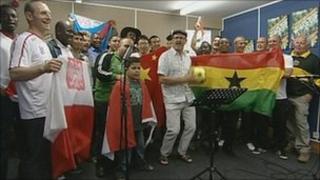 A football tournament designed to bring Hull's communities together has recorded its own official anthem.
The football festival was established last year as a weekend of football and cultural activities.
The event is organised by local charity the Goodwin Trust as part of its community integration project.
Players from some of the 32 teams taking part in the festival recorded the song, written by ex-Housemartin Ted Key.
Mr Key said he was inspired to write the song, titled We're All in the World Cup, after seeing the city become more multicultural over the last few years.
"I've lived in Hull all my life and I've seen the changes. Different communities, different peoples coming to the town," he said.
"I just thought it was a brilliant way of getting all those communities together, and the people who live here. Football can bring people together like that."
Teams made up of players from Sudan, Iraq, Burundi and Algeria will play each other at a sports centre in the city's West Park next month.
Gabriel, manager of the Ghana team, said the whole team was looking forward to the festival.
"We've been part of the world cup last year and it was cracking," he said. "Our way is to get out, have fun and that's what we did last year. We did the drumming and dancing We did all the singing, it was cracking for all of us. We love to come out. We love to be part of the community."