Adam Vincent: Family's relief after head discovery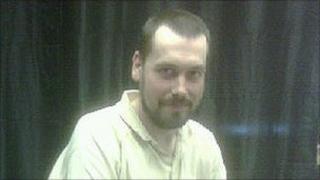 The father of a man whose body parts were found in a canal said the family can now grieve after a human head was found in a river in North Lincolnshire.
Detectives investigating the death of Grimsby man Adam Vincent, 33, believe a head found on Monday in a river near Brigg is that of Mr Vincent.
Keith Vincent said the family can now put Mr Vincent to rest. He said "the nightmares are going to stop".
A post-mortem examination of the body parts will take place on Wednesday.
Other partial remains of Adam Vincent were recovered from Tetney Lock, near Grimsby, in March, and the River Ancholme in June.
Six people have been charged in connection with his death.
'Deep, deep sadness'
Speaking on behalf of the family, Keith Vincent said: "We're pleased to have Adam back of course but also there's a deep, deep sadness in the way that we've had to come to this.
"We just hope now we can put him to rest and start to think about the next chapter of our lives."
The family have said the remains will be cremated and a memorial service held.
Police are continuing to search the area, but they have said they do not expect any further human remains to be found.