Nairobi school supported by the village of Swanland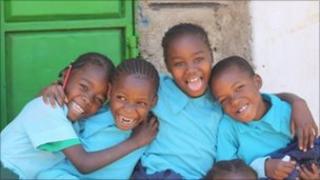 A school in one of the poorest parts of Kenya is being supported by a local community.
Swanland School is located in the Kawangware slum district of Nairobi.
There are over 200 pupils aged between three and 24. Many of the students are orphans and live on the school premises full time.
Since 2002, the community of Swanland, in East Yorkshire, have been supporting the school by collectively donating £2500 a month for its upkeep.
One of the main expenses is providing food. Some of the basic food staples have gone up nearly six times in price since the political violence that engulfed Kenya two years ago.
As well as money, the village also donates goods such as school uniforms and, with the help of Hull City AFC, have sent over football kits and other sports equipment.
Pastor Hudson Kuyanda is the headmaster at the school. Every month he provides an update on the school's activities.
Pastor Hudson's Diary Update
I personally want to appreciate all that you continue to do to help our schools.
We are all preparing to do mid-term exams next week. Already the teachers have presented their exams for typing and Esther in the office has been busy printing and photocopying. The total number of children at Swanland School, Nairobi is 197 for both primary and high school with 98 in high school and 99 in primary. There are 36 staff.
Visit to the butterfly farm
Today the primary kids are visiting Butterfly centre and high school tomorrow respectively. I hope they will all enjoy themselves and I will send you some pictures when they come back.
School improvements
The school has also improved its services through the support that you have continued to give. This month we have had a big expenditure as the Nairobi City Council have inspected the school and we have had to buy a licence. They have also requested that we must place a fire extinguisher in every classroom, I do not know how I will be able to pay for this.
Food prices
Food prices just keep going up. This month we were unable to pay all of our food bill but rather requested the supplier to wait until next month then we shall pay, which he agreed to this. We try to feed the entire school with breakfast and lunch and supper for the borders. The food that we feed the school is rice, beans and maize and then sukuma, potatoes and cabbages.
Repairs and rebuilding
The rain continues to fall and nothing has been done on toilets. I am waiting until it stops. I will be able to start rebuilding as we have already bought some materials that are needed. I have tried to repair the floor in some classrooms, the girls dormitory and have also done some painting on the wall.
Kakamega School
When I visited Kakamega I left Isaac doing some repairs to the toilets and some classrooms. We need also to fence the school compound, which is open and the security of the kids and school property is not secure.
There are 78 kids there at the moment but there are many more who want to join us but we do not have the funds to let them come. I plan to visit Kakamega this month for three days to see the development of the school and then come back to Nairobi for my normal duties.
Thank you so much for helping me and my family and may God bless you and your friends.
Yours in His Service
Pastor Hudson M Kuyanda