Humber Bridge toll will rise to be UK's most expensive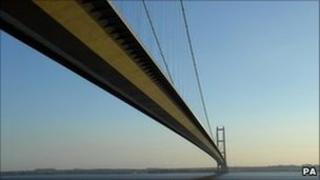 The Humber Bridge toll will be the most expensive in the UK after the bridge board approved a toll increase in its annual general meeting.
It follows approval from the Department of Transport to go ahead with the rise as the board aims to pay back its £330m debt.
Chairman, Andrew Gemmell said the board's "hands are tied" as it is "duty bound" to repay the money.
A single crossing will rise from £2.70 to £3.00 per car on 1 October.
When the bridge first opened in 1981, the cost of crossing was £1.
The board had said if the increase was not approved it would have a £2.2m shortfall on repayments this year.
The bridge was financed with a £150m government loan, which rose to £330m due to interest.
A treasury review into the wider economic impact of the tolls is due in November.