Region's hidden artworks go on public display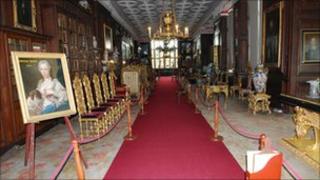 Thousands of paintings in East Yorkshire, North and North East Lincolnshire that are usually hidden from view are being made available to the public.
More than 2,500 paintings are either in buildings other than art galleries or hidden in storage.
These works are being recorded for a major art project called Your Paintings.
Among those is an 18th Century oil painting at Burton Constable Hall.
Hanging in a dark corner of the Hall's Long Gallery is a portrait of Countess Mahoni, formally known as Lady Anne Clifford, who was a cousin of William Constable. It was painted by celebrated Italian artist Pompeo Batoni in 1785.
This was a second copy of an original by French artist Pierre Subleyras, which now hangs in the Musée des Beaux-Arts (Museum of Fine Art) in Caen, France.
Lost at sea
The first copy commissioned by William Constable in 1778, which was painted by Italian artist Domenico Cherubini, was being transported on the sailing ship, Westmorland, from Italy when it was seized by French privateers.
The painting, along with other works on board the ship that were collected by upper-class European tourists during their Grand Tour in Italy, was taken to Spain where it was sold to King Charles III.
Despite demands by the British Ambassador for its return, the painting has remained locked in a strong room at the Royal Palace of Madrid for over 200 years.
In 2002, the Westmorland's cargo became the subject of a national touring exhibition in Spain where the first copy of Countess Mahoni went on display.
'Great revelation'
Original correspondence between the art sales agent and William Constable, which is held at the East Riding of Yorkshire Council's archives in Beverley, suggests that the ship was lost at sea.
Dr David Connell, the director of Burton Constable Foundation, said: "When they opened it [the Royal Palace's strong room] up it was a great revelation to scholars in England, like me, who had thought the Westmorland had been sunk.
"We didn't realise that it had been captured by the French and the cargo was still safe. We thought it was at the bottom of the sea."
The painting could make its way over to England next year when the Westmorland exhibition will be seen in the UK for the first time.
Dr Connell said: "It would be nice to have the painting here [at Burton Constable Hall] but in practical terms we don't have the sort of money that you would need to ship a painting from Spain and insure it and put it on display."
'Hidden gems'
In the meantime, the painting is publicly available via the Your Paintings project.
The project, which sees the BBC partner with the Public Catalogue Foundation, is aiming to build an archive of the UK's national art collection of 200,000 oil paintings, of which 80% are thought to be hidden or not on display.
Hazel Buchan-Cameron from the Public Catalogue Foundation said: "The East Riding of Yorkshire has got a huge and beautiful collection. It stands out because of the value, diversity and beauty in its paintings and I think it is really a hidden gem.
"The catalogue will really bring to light what is out there."