Serena Williams meets Twitter boy at Wimbledon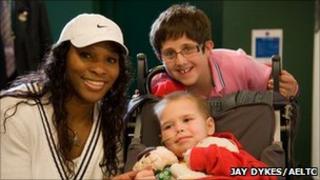 A five-year-old boy with terminal cancer has been to Wimbledon after receiving an invitation from defending champion, Serena Williams.
Jack Marshall, from Scunthorpe, is followed on the social networking site Twitter by the former world number one.
He and his family were invited to watch a second round match in which Williams beat Simona Halep.
Jack was diagnosed with a brain tumour in 2009.
Williams has recently returned to the game after battling a serious foot injury and blood clots.
She said: "I thought if I made it to Wimbledon, I wanted to invite Jack out. I got to meet him yesterday. We spent some time together.
"It's just been so amazing, his whole story, to be so small, to have such courage."
Jack's mum, Tracey said the experience had been a positive one for her son.
"It has been an amazing day for Jack and for all of us, a day to make some wonderful memories.
"Serena has been wonderful with Jack. She spent a lot of time talking to him and holding his hand and he gave her one of his special winks."