Humber logistics park £100m project clears last hurdle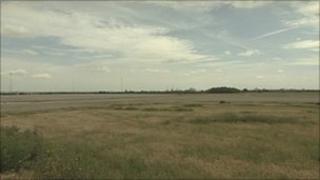 The final hurdle has been overcome in plans for a £100m redevelopment of land on the south bank of the Humber, paving the way for 5,000 jobs.
The project by Able UK will include transport depots, warehousing, a business park and hotel on 1,500 acres (607 hectares) of land at East Halton.
There will also be transport links to Immingham and the Humber Sea Terminal.
The application had been referred to the government because the site was outside the local plan.
Concerns had also been raised to the original proposals from the RSPB and Natural England about the impact on the estuary's internationally important water birds.
Those issues have been addressed and the plan was returned to North Lincolnshire Council, which ratified the planning approval made in October 2010.
Growing port
Liz Redfern, the leader of North Lincolnshire Council, said: "This is a major breakthrough and marks the first step to attracting further investment on the South Humber Gateway.
"The site is the fastest growing ports and logistics centre in the country and has the potential to be Europe's leader in renewable energy.
"This application is vital to ensuring the continuing development of the South Humber Gateway and I'm delighted that consent has been given.
"I cannot stress enough what a major achievement it is that we have managed to balance the needs of nature conservation and development.
"A large part of the site is to be used for landscaping and habitat creation, and balanced with the creation of more than 5,000 jobs with over half of those being manufacturing jobs, is wonderful.
"This will put this region on the map for the right reasons and prove that North Lincolnshire is the place for future investment and growth and for job opportunities."