Two die in 'ferocious' Hull house blaze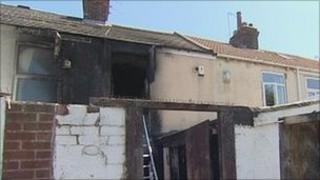 The neighbour of two people who died in a "ferocious" house fire in Hull has described how the victims were screaming for help from a window.
Humberside Fire and Rescue were called to a terraced property on Montrose Street, off Dansom Lane, on Saturday.
Officers who managed to get into the building found the bodies of a man and a woman, thought to be in their 40s.
A fire service spokesman said: "This was a particularly ferocious fire and crews had to work exceptionally hard."
Neighbour Tracy Allison said she witnessed the woman begging for help.
Staircase collapsed
Ms Allison said: "When I woke up and looked out of the window I thought it was heavy rain, I then saw my neighbour hanging out of the window screaming 'help me help me'.
"It was frightening, you're just running on adrenalin.
"If the firefighters had taken longer to get here, my daughter's bedroom would have gone.
"To see your neighbour hanging out of the window screaming 'help me, help me' and then for her to die, you can't describe the feelings. It's unreal.
"They were lovely people. When my daughter was born they used to come round and see her.
"They were really nice caring people, you just couldn't ask for better neighbours, you could always knock on the door if you needed anything."
Keith Evans, of Humberside Fire and Rescue Service, said the conditions crews found at the house were the worst they had seen in their careers.
He said: "Regardless of us being on scene within three minutes of leaving the fire station, two people have lost their lives.
"Personal accounts from the firefighters was that the conditions they came across were the worst they have seen in their career.
"As officers were trying to make their way up the staircase the staircase collapsed."