Bus route stays open after passholders pay full fares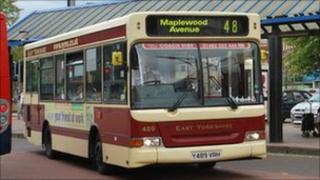 A campaign by a group of Hull commuters has persuaded a local bus company to keep a threatened route open.
The number 48 Maplewood Avenue route in the west of the city faced being axed because it was not financially viable.
Local residents started a petition and encouraged concessionary passholders to pay for some of their journeys.
After an increase in fare revenue, East Yorkshire Motor Services (EYMS) said the route would remain open for the "foreseeable future".
The organiser of the campaign Maggie Burgess said she was happy that the company had reversed its decision as the bus was a vital link for residents.
"The service is very important," she said.
"There are a lot of elderly people around here and as we have no supermarkets, or things like that, [the bus service] is a lifeline to a lot of these people," she said.
"Should the bus go altogether, then somehow we have to find an alternative means of transport for this area."
Chairman and chief executive of EYMS Peter Shipp, said that during a month-long trial, the number of fare-paying passengers on the route had increased and the number of people using the service who were entitled to free travel had fallen.
Mr Shipp said the route's survival could depend on concessionary pass holders sometimes paying the full-fare.
"The problem is that we are not allowed to introduce our own concessionary fares scheme, it's the government scheme or nothing, he said.
"So the only alternative for the 48 route residents is to pay a least sometimes, not every time they journey, possibly, but instead of using their pass to pay the full fare."