MP Graham Stuart's free road surface to be removed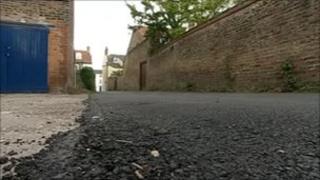 A road surface laid for free outside an East Yorkshire MP's home is to be removed following a dispute about it.
MP Graham Stuart's wife, Anne, asked East Riding of Yorkshire Council contractors to surface the private road with any spare asphalt they had.
But local residents have complained about the lane's new surface.
Contractors Galliford Try, which resurfaced the roads, said the asphalt would be removed because the dispute could not be settled.
Richard Brooks, a neighbour said: "It's a quiet tranquil little back lane, it's been like that for over 100 years and nobody wanted the tarmac down at all."
Mr Stuart, the Conservative MP for Beverley and Holderness, said his wife had "told a workman that if they had any spare tarmac they would be welcome to put it in the potholes of Seven Corners Lane.
"My wife cycled off and on returning home was delighted to see that they had laid a path of tarmac on the worst stretch of the lane."
'Fairest solution'
But the road surface, which was laid 23 days ago, has also angered George McManus, chair of the local Labour Party.
He said: "I do feel a great amount of sympathy for the neighbours who have been very upset by this.
"I think by the fact that Graham allowed this to happen in the first place, and that he can't see the legitimate point that we're making about him deriving an indirect benefit, shows bad judgment."
In a statement Galliford Try said it had consulted local residents and found that "some were in favour of retaining the tarmac but others were not".
"Unable to find a consensus and conscious that we laid the tarmac without the full consent of affected residents, we've decided that the fairest solution is to remove the tarmac and reinstate the previous surface without the previously existing potholes.
"This is a matter between ourselves and the residents and does not involve our client, East Riding of Yorkshire Council."
The road surface is due to be removed on 4 July.