Scunthorpe 'hazard home' to improve safety training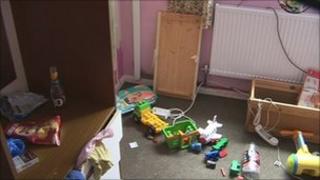 A house full of hazards in Scunthorpe is being used to train professionals to spot the dangers in people's homes.
The "Hazard House" is designed to allow public service staff to learn in a real-life environment.
The converted two-bedroom property is full of potential dangers, including overloaded sockets, clothes on heaters and cigarettes left unattended.
The new centre will train workers from the local council, NHS, charities, the police and fire service.
'Wonderful resource'
According to the Royal Society for the Prevention of Accidents, home accidents cause almost 4,000 deaths and 2.7 million hospital attendances each year in the UK.
In north Lincolnshire alone 8,000 people attended Scunthorpe Hospital last year with injuries sustained in the home.
Mara Derrett, training officer for NHS Northern Lincolnshire and Goole Hospitals Foundation Trust, said: "Hazard House is going to be a wonderful resource for our trust.
"Because the community services side of the organisation predominately works in patients' homes, delivering goods and services.
"Having a hands-on training venue like this one will make the training so much more interesting and real, it will bring it alive."
As well as safety dangers, the training will help in identifying other areas of concern, such as drug and alcohol abuse, child cruelty, domestic violence and even political extremism.
'See something'
North Lincolnshire Council plans to train all staff who make house visits.
The council's health improvement manager Steve Mercer said it will allow all field workers to intervene if they spotted a problem.
"Even if they go in as housing benefits officers or an environmental health officer they might see something while they're there which they previously wouldn't know what to do about," he said.
"They now will have this training and can refer it on to the appropriate department to deal with."