East Yorkshire schools need £550m for repairs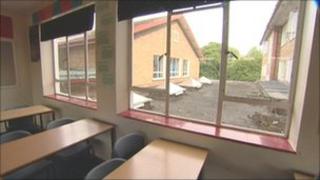 An estimated £550m is needed to improve the state of schools, East Riding of Yorkshire Council has said.
A review was ordered by the council after head teachers in the county raised concerns.
Half of the 153 schools are in need of a total rebuild, while the rest are in a state of disrepair.
The council said in 2008 £441m would need to be spent on school buildings. Government funding for school rebuilding was cut last year.
One of the schools which is in need of repairs is Hornsea School, which was declared unfit for purpose by Ofsted inspectors in October 2010.
With the exception of its sixth form building, the 1,250-capacity secondary school, which was originally built for 500 students in the 1950s, needs a complete rebuild, according to deputy head teacher Steve Ostler.
'Not fit'
He said: "Our biggest concerns are the flat leaking roofs, metal windows that don't work and classroom sizes."
Last year the school took £66,785 from its budget to spend on repairs and maintenance, which would have otherwise been spent on learning resources.
This year the expenditure is expected to be £75,000.
Mr Ostler said more than £10m would be needed to bring the school up to date.
He said: "We would need to completely rebuild the school to meet modern standards and for it to be fit for purpose."
The school had been in line to benefit from the national Building Schools for the Future (BSF) programme, which was launched by the Labour government in 2004 with the aim to rebuild or improve state schools in the country.
But it missed out when the scheme was axed by the coalition government last year.
Councillor Kerri Harold, who is responsible for children and young people's services, has ordered a review of all the schools in the East Riding after head teachers from Hornsea, Wolfreton and Longcroft in Beverley raised concerns.
She said: "It comes as no surprise to us. We have been aware of this issue and it has been put on hold whilst we were waiting for BSF money to come in. But then that didn't happen."