Humberside Police set up allotment to cut youth crime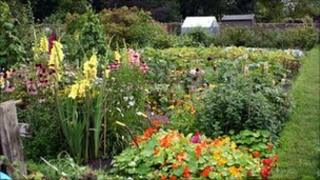 Humberside Police hope to cut offending by getting young people involved in gardening.
Officers in west Hull have set-up an allotment and are encouraging schoolchildren to grow their own produce over the summer holidays.
The initiative comes in response to increasing crime on the city's allotments.
Police report that incidents of theft and criminal damage are on the rise.
In recent weeks, thieves have targeted allotments across the region, prompting police to mount extra patrols.
In May an allotment site in east Hull was raided three times, with tools and other equipment stolen from sheds.
Donations of tools
Pc Andy White from the Kirkella Local Policing Team is behind the scheme.
He said that the idea was to encourage young people to get involved with allotment holders in a positive way.
He said: "By having the children on there, and by having the police presence on and off the allotment, hopefully, it will deter any criminals going on there and committing any damage to the plot owners land and to the sheds."
The allotment patch has been provided by the society that runs the site on Wolfreton Road.
The police are appealing to residents and businesses to support the project by donating garden tools and seeds.
Any produce grown will be given to retired people in the area.