Charity shops have concern over thefts of donations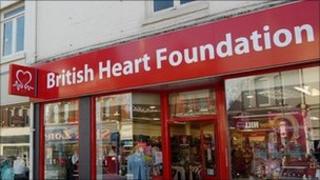 Charity shops have said bags of donated items are being stolen before they can be collected.
Humberside police said they had received a "small number of reported collection bag thefts from outside properties in the force area".
The British Heart Foundation, Scope and Barnado's said thieves had been intercepting some of their bags.
The British Heart Foundation said the thefts were depriving their shops of stock.
Mick Parkin, area manager for the British Heart Foundation in Yorkshire and the Humber, said: "We absolutely rely on stock donated by the public to fill our shops.
"Our shops last year generated £26m worth of fundraising.
'Only one reason'
"A thief, if they pick up these bags they can probably sell the contents, depending what's in it, for between £5 and £10.
"They'll just try to move it on, sell it at a cheap price, hopefully get a lot of them and make a fast buck.
"If we get them, when we get them, we raise between £15 to £20 from each of these bags because we can get a better price out there, and that goes to beating heart disease."
Hull lawyer Peter Dufus said that many people did not view taking donated items as theft. However, the law is clear.
"The mere fact that you put something on your doorstep doesn't stop it being your property. It's in a charity bag so it's there for only one reason, that is to enable the charity to pick it up, he said.
Humberside Police said that people should not put out bags before the day of collection and urged the public to call the police if they see anything suspicious.