North Lincolnshire cable thefts cut off phone lines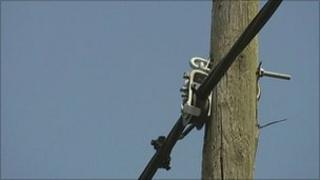 An increase in cable thefts has left some North Lincolnshire communities repeatedly without phone services.
The village of Alkborough has had lines stolen three times in the past two weeks.
The thefts are being blamed on the rising price of copper as demand for metals increases in the economies of China and India.
BT said it was working with police and the public to try to reduce the number of thefts.
One Alkborough resident said the continual loss of the telephone connection was having an impact on his business.
"Working from home, relying on the phone line for fax and internet connections, and it obviously affects it greatly.
"It's a big, big disruption that I can't access what I need to access on a daily basis."
Another villager, Lesley Whittingham, said she had been unable to draw her pension for three weeks as the mobile post office needs a connection to authorise payments.
Anti-theft technology
Thefts of copper phone lines have also been reported in Thorne and North Kelsey.
BT said it had introduced anti-theft technology, such as Smartwater, to help identify stolen cable.
Bernie Auguste, head of Openreach Security at BT, said the company was lobbying politicians to make punishments more severe.
"It has to be made a significant crime.
"One of the things we need to do is to use legislation a lot better to try and address even the people that are channelling this crime for profit, or try to improve the sentencing for people who get caught."
Humberside Police have launched an initiative called Operation Opal to deal with the rise in thefts.
Officers visit local scrap metals dealers on a regular basis and have issued them with information to help them identify potentially stolen cables.