Vince Cable: No intervention in Tata Steel job losses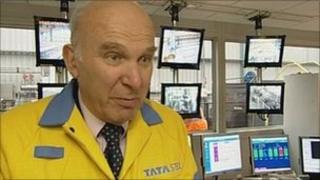 Business Secretary Vince Cable has said he is unable to intervene in a decision to shed 1,200 jobs in North Lincolnshire.
His comments came on a three-hour visit to Tata Steel in Scunthorpe.
In May, Tata said it would be axing the jobs due to lack of demand for steel.
A visit was also made to the proposed site for a wind turbine factory in Hull, where Mr Cable said the Humber region had "tremendous potential" for developing wind energy.
Speaking about the future for Tata Steel, the Liberal Democrat MP said: "They have been hit by the economic downturn in the construction industry and have been forced to make difficult decisions affecting jobs.
"But what I see here is a very positive spirit, with management working with unions and a local taskforce."
In the past the steel giant has said demand for structural steel in the UK was only two-thirds of the level it was in 2007 and "is not expected to fully recover within the next five years".
As a result it proposed closing or mothballing parts of the Scunthorpe plant.
Jon Bolton from Tata Steel said: "It's always positive having those conversations with government because their strategy can be quite critical in terms of the value we can get from the business, and the opportunity to save jobs because we're looking for investment."
It is hoped that concerns held by industry will be taken back to Westminster by the Business Secretary.
Labour MP for Scunthorpe Nic Dakin said: "He listened to our concerns about transport infrastructure, the A160, Humber Bridge tolls and the recognition that planning is an obstacle to big developments, such as the South Humber gateway, going ahead."