Vote to decide future of Hull's business promotion plan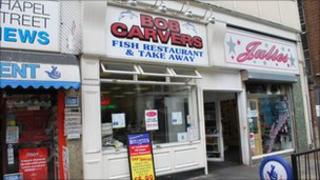 The future of Hull Business Improvement District is to be decided by ballot.
The not-for-profit organisation was set up in 2006 to promote the city centre to visitors and residents by organising events and activities.
The vote will determine whether the project will continue to be funded for another five years.
A "no" campaign has been launched by some traders who object to paying a levy of 1% of their rateable value towards the project.
One of the opponents is Jodie Carver from Bob Carvers fish and chip restaurant.
She said: "They take 1% of the rateable value of our property and for that you are supposed to get extra policing, extra cleaning - basic things that we already get from paying our rates anyway."
'Democratic process'
Kathryn Shillito, manager of Hull Business Improvement District [BID], said: "The council do provide statutory services and the BID does not replace these services but enhances them.
"It's about the private sector coming together with the BID and us helping out where we can."
Over the years the project has organised the annual Christmas lights switch-on, run fashion shows and cookery events and removed graffiti from business premises.
In February 2009 some traders were fined by magistrates for not paying the levy.
Ms Shillito said: "It's a democratic process. It's carried out by an independent body, the Electoral Reform Services.
"It's quite straightforward. People vote for the BID, or they vote against it, and every positive vote is counted."
The ballot closes on 14 September, with the result expected the next day.