Ping pong tables pop up in Hull to increase players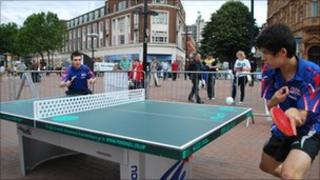 Forty-five ping pong tables have popped up across Hull to encourage more people to participate in the sport.
Tables have been set up in 10 locations including Queen Victoria Square, Hull train station, the central library and a Chinese restaurant.
The initiative, called Ping! was designed to promote the sport across the country ahead of the 2012 Olympics.
According to the English Table Tennis Association (ETTA), ping pong is one of the fastest growing sports in the UK.
Organisers are hoping the free public sporting activity will catch on with commuters, shoppers and visitors.
Meera Sodha, project manager from Sing London, said the initiative was "a gift" for Hull.
"It's there to get people playing, talking and having fun and it's actually the second most popular sport in the world.
"We're really hoping for a sporting legacy here. We really want people to have a taste of the game here and then want to actually pick it up.
"For me it's not just a bat and a ball, we're bringing the city together."
Month long
Michael Barlow, 58, from Hull, decided to pick up a bat after he came across the tables on route to the shops.
"I just saw a load of them [people] having a laugh and keeping fit so I thought I'd join in. It's the first time I played in about 10 to 15 years," he said.
Playing at a table against former English Table Tennis Champion Andrea Holt was 12-year-old Luke Brodie, from Hull, who turned up at the event with his mum and two siblings.
"It's really fun and it's very different to what I'm used to. I normally play inside with people that I know," he said.
"I don't play it that much and now that I'm getting back into it, it's getting my skills back."
The event runs for a month, after which 12 of the tables will be permanently in the city centre and the rest will be donated to community groups and public organisations in Hull.
The scheme launched in London last year where around 50,000 participants took part in the sport.