Bridlington fisherman to get NHS health trainer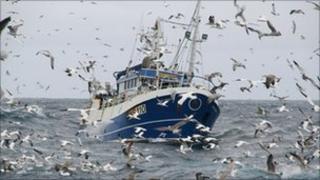 Fishermen in Bridlington are to get their own health trainer amid fears they have an unhealthy lifestyle.
Anecdotal evidence shows that due to the demanding nature of their job, they are more likely to smoke, drink and eat badly, Humber NHS Trust said.
Humber NHS health trainer Paula Rooke will now visit the harbour twice a week to offer health checks and information.
The aim is to make the fishermen of Bridlington "one of the healthiest fishing communities in the country".
Natalie Belt, the health training manager, said the aim was to inspire similar projects in coastal towns across the UK.
The Seaman's Hospital Society blamed odd shift patterns, long hours, a labour-intensive job and the stress of trying to make a living from the sea for fishermen's poor health and lifestyle.