Ings Road Estate residents 'left in limbo'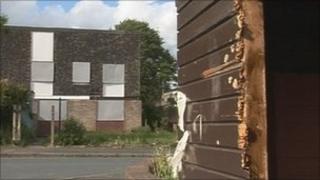 People on an east Hull housing estate have said they feel abandoned after a regeneration scheme was cancelled.
Residents on the Ings Road Estate said they had been "left in limbo" after funding was cut by the Government.
Local MP Karl Turner has called on housing ministers to visit the area and meet the residents.
In response, the government said it was "committed to helping these residents who are stranded in derelict neighbourhoods".
The estate was earmarked for regeneration under the Housing Market Renewal programme. The coalition government cancelled the scheme in November last year.
Half the properties were boarded up in preparation for demolition. Some of these empty houses have been targeted by vandals and arsonists.
'Terrifying situation'
Local resident Frank Wheeler claimed the estate was "a scene of mass destruction."
He said: "When you are living next door to houses in this condition and you know that they are being set alight you are in a terrifying situation. Are you going to survive the night?
"It really has been that serious."
Mr Turner, a Labour MP, has written to the Local Government Secretary Eric Pickles asking him to visit the area to see the problem for himself.
He said: "People who have bought their property, bought the property as a home expecting to live here for ever, have been left in complete and utter destruction."
In a statement the Department for Communities and Local Government said: "Despite the best efforts of local communities, the previously centrally-controlled Housing Market Renewal programme didn't work, resulting in large scale housing demolitions, pitting neighbour against neighbour and in some cases trapping families in abandoned streets."
The department has set up a fund of £30m for regeneration projects. The money requires local authorities to match fund any grants awarded.
Hull City Council has applied for £6m from the scheme.