Grimsby pair grow beards to raise money for charity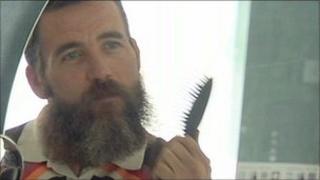 A plumber and an electrician from North East Lincolnshire are over halfway through a challenge to grow beards for charity.
David Clixby and Richard Wall from Grimsby began the year-long project after a bet in a pub.
Plumber Mr Wall had to scale back his facial hair to a goatee style after burning part of it with a blowtorch.
The pair have raised almost £3,000 for Help for Heroes and will shave off their beards on New Year's Day 2012.
Speaking about the loss of some of his facial hair, Mr Wall, said: "I did singe it a little bit when I was under a sink so I decided just to grow a goatee.
"I can tie it up and it's not getting in the way because it can be a bit dangerous when I'm in a tight place with a blowtorch."
The charity challenge has changed Mr Clixby's morning routine.
He said getting ready now takes 10 minutes longer than it did when he was clean shaven.
Mr Clixby added: "The worst thing is the food sticks to it, but the best thing is you can have your tea half an hour after you finish it."