Reward offered for stolen Hull seafarers' statue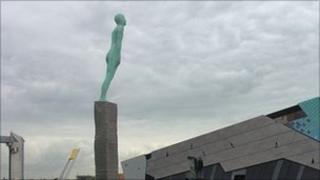 A £1,500 reward has been offered for the safe return of a statue which was stolen from Victoria Pier in Hull.
Voyage, which stands at nearly 6ft (180 cm) and weighs about 47 stone (300kg), was taken from its plinth on Sunday night.
The reward was offered by the families of two men who died at sea and a fishing author.
The statue, a memorial to those who died at sea, was a gift from the Icelandic town of Vik.
In the past, Hull trawlermen were rescued by people in Vik when vessels ran aground in shallow water and given food and shelter.
CCTV footage suggests the statue was stolen between 23:00 BST and midnight on Sunday.
Jill Long was left to bring up two children on her own after her husband, Tony Harrison, died in a trawler fire.
'Disgusting really'
She said: "What low life does anything like this? We've got nothing else to the memory of the lost ones.
"This is our heritage, they've taken it away from us."
Morris Swain died in the Triple Trawler tragedy. His brother Mike said: "It disrespects the dead.
"For someone to think it's just got a scrap value and to rip it down from this pier, it's disgusting really."
Fishing author Mike Waudby renewed the appeal for the return of Voyage. He said: "We understand the scrap value is between £1,200 and £1,800.
"All we want back is our statue - it was given to us by Iceland for the seafarers lost at this port and i just find it rather upsetting."