City MPs meet Hull Trains managers after rail problems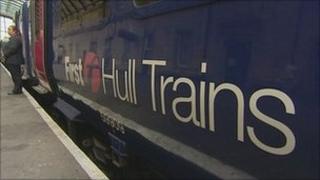 MPs have met managers from Hull Trains after repeated disruptions on the service to London.
There have been a series of cancellations over the past few weeks due to mechanical failures.
Hull North MP Diana Johnson said the meeting "was an honest exchange of views."
The firm has apologised to customers for recent problems and said it was now running a full timetable.
Only two of its four trains have been available in the past month, meaning the scheduled daily timetable of 14 services a day has been reduced to 11.
Last week former Transport Secretary Lord Prescott said he was writing to the Office Of Rail Regulation to ask them to investigate the problems.
Ms Johnson said the three MPs had raised the issue of reliability and the effect it was having on the image of the city.
She said: "I think it reflects very badly on Hull, and of course Hull Trains are called Hull Trains and people know that it's related to the city. So, I think when they are not reliable and they're not providing a quality service, I think it reflects very badly."
She said the company had promised to address the issues raised by the MPs.
Hull Trains described the meeting as "very constructive."