Hedon residents launch petition against 'putrid' odours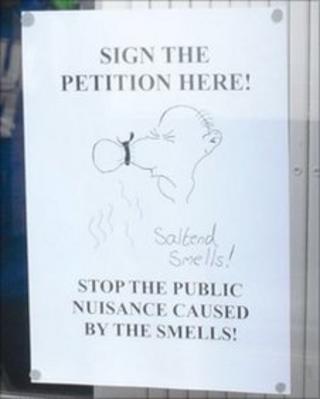 Residents in an East Yorkshire town have started a petition to stop odours from a waste water treatment plant.
A Yorkshire Water facility in Saltend is blamed for a smell of "rotten eggs" that affects the surrounding area.
The mayor of nearby Hedon has described the smell as "putrid" and claimed it was making residents physically sick.
Yorkshire Water, which owns the plant, has apologised for the problems and said it was investing in new anti-odour technology.
The petition, on the Hedon Blog website, was launched on Monday after a town council meeting.
It calls on the plant to be reclassified as a statutory nuisance, allowing the local authority to enforce measures to reduce the problem.
One of the people supporting the campaign is Hedon mayor Anne Suggitt. She said the problem had been going on for more than a decade.
"It's rotten eggs, all day, every day, and has been since 2000 when the plant was first put in," she said.
"We were told there would be no odour from that plant, but there has been nothing but odours."
Yorkshire Water acknowledged that its facility was to blame for the smell and described the situation as "totally unacceptable".
The company's Matt Thompson said it hoped that new technology would solve the problem.
"We are investing £3.5m at the site on a brand new hi-tech odour control unit. That will be twice the size of the current facility and the biggest in the region," he said.
"So, that should significantly, in itself, help to reduce odour at the site."
The new unit is expected to open in December this year.