Woman and kids rescued after Cleethorpes dinghy stranded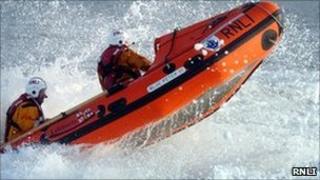 Lifeboat crews have warned of the dangers of going out to sea on inflatables after a woman and three children had to be rescued.
The group was stranded after their dinghy was pulled out by the current near Haile Sand Fort, Cleethorpes, at about 18:00 BST on Tuesday.
The woman and children - two teenagers and a small boy - were brought back to shore in North East Lincolnshire.
They were said to be distressed but did not need medical attention.
Helmsman Ian Sanderson said: "Their lives were in danger if they had carried on and hadn't been spotted."
Mr Sanderson said the group had gone out "for a bit of sightseeing and a bit of exploring and they got caught out by the incoming tide".
He said such incidents were a "regular occurrence" and he urged people not to go out to sea on inflatables.
Mr Sanderson said people who do should "make sure you know what the tide is doing and be aware of your situation at all times".