Goole floods: Yorkshire Water to report on Wednesday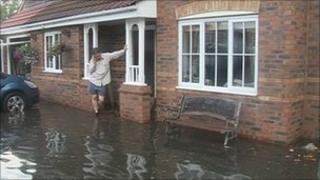 Initial findings of an investigation into last week's flash floods in Goole will be released on Wednesday, water company officials have said.
Homes and businesses in the town were evacuated when two weeks' worth of rain fell in a few hours last Wednesday.
Yorkshire Water is investigating why street drains filled and left standing water in some areas of the town.
It said it wanted to ensure the investigation was "thorough and robust" and urged residents to be patient.
'Extreme weather'
A Yorkshire Water spokesman said: "We empathise fully with the awful experience that a number of residents of Goole have endured as a result of the flooding.
"Immediately after responding to that event, we stated that 'all of our assets continued to operate as they were designed to'.
"Since then we have met with and listened to local residents, discussed the situation with the local MP Andrew Percy and worked with the East Riding of Yorkshire Council.
"We now understand that we need to undertake a far more detailed analysis of our response to this extreme weather event."
The company said it would share its initial findings on Wednesday and asked residents "to please bear with us until then".
"In the meantime, we will continue to work with the East Riding of Yorkshire Council to provide support and to help residents in whatever way we can through what we appreciate is a deeply distressing time."