East Riding Council in cosmetic lenses warning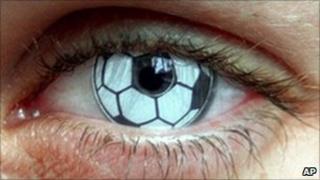 People are putting their sight at risk by wearing cosmetic contact lenses being sold illegally in East Yorkshire, trading standards officials have said.
Cosmetic lenses are coloured or patterned and are particularly popular among young people.
Trading standards officers said they were being sold illegally at some outlets in the East Riding, such as hairdressers, beauticians and markets.
They can cause problems including corneal ulcers and infections.
An East Riding of Yorkshire Council spokesman said: "These in turn can lead to vision impairment. In extreme cases, blindness and eye loss may result."
Enforcement action
The law states that lenses can only be sold where a registered optometrist, dispensing optician or medical practitioner is on the premises.
Trading standards officers are visiting outlets found to be selling them and instructing the owners to remove the items from sale or face being referred to the General Optical Council (GOC), which has the power to take further enforcement action.
Councillor Jane Evison, cabinet portfolio holder for rural issues and cultural services at East Riding Council, said: "I would strongly urge that people only buy lenses from a legal source, have them fitted by a professional and follow all advice about how to wear and look after the lenses.
"Failure to do so may cause serious eye problems."