Cottingham residents call for improved flood protection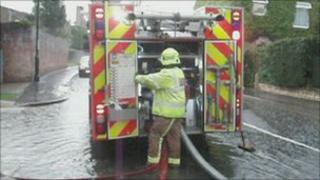 People living in an East Yorkshire village claim flood prevention measures have failed again.
Parts of Cottingham were hit by flash flooding after heavy rainfall on Monday night.
Residents are calling on Yorkshire Water to do more to prevent future incidents.
Yorkshire Water said they "empathised" with the residents who were affected and said "we're determined to do all we can to alleviate the risk of flooding".
A fire engine was called to pump water off roads in the town centre after heavy rain fell in the early evening.
Local resident Bob Skinner said that flooding was a recurring problem.
"We had the big flood of 2007 and since then it's flooded probably four, five, six times. And every time we've got the same old problem, we've got raw sewage flowing out of the road." he said.
Humberside Fire and Rescue Service said no properties were flooded, but one appliance spent 45 minutes pumping water off George Street and King Street.
In a statement, Yorkshire Water said they were working with the East Riding of Yorkshire Council to try and reduce flooding risk.
They said they had fitted devices in the local sewer system to monitor water flow during different weather conditions.
The company said that there had been "several very heavy bouts of rainfall over very short periods of time, which have led to our sewers being stretched to capacity".