Goole flooding caused by 'exceptional downpour'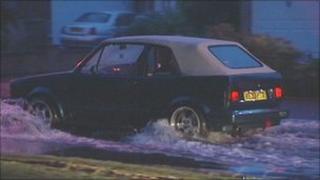 An "exceptional downpour" was responsible for flooding in Goole last week, Yorkshire Water said.
More than two weeks' worth of rainfall fell over two hours on the evening of Wednesday 4 August, causing extensive flooding to properties.
The town's Conservative MP Andrew Percy had questioned whether a pumping station in the town was working properly during the deluge.
The company said the plant "continued to pump water away".
However, it said that its investigation had found that three pumps at the station stopped working for an hour.
The company said that this shutdown was done "to protect the equipment" and they "had brought an additional pump into service at the station at around 20:00 BST that evening."
About 50 firefighters were sent to Goole to help pump out buildings in the town. A home and a supermarket in the town centre were among the buildings evacuated.
In a statement into the cause of the flooding, Yorkshire Water said it was sorry for the damage to people's homes.
The company said: "We want to reassure residents across Yorkshire that we'll continue to work hard and invest significantly where it's most needed, in order to do everything we can to reduce the risk of flooding in our region.
East Riding of Yorkshire Council is also conducting an investigation.