Humber tidal project given Parliamentary approval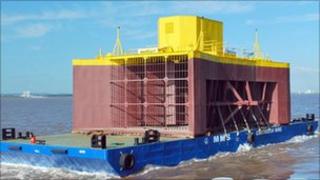 Plans for a tidal power vessel in the Humber to generate electricity for a Hull aquarium have been approved.
The Neptune Proteus device will use the tides of the estuary to power The Deep.
The 150-tonne generator is expected to be deployed in the autumn. It is hoped five additional units will be installed in the future to generate energy for 5,000 homes.
Colin Brown, chief executive of The Deep, said the Humber had "massive" potential as a power source.
Mr Brown said: "Because of the nature of the aquarium, pumps are running 24/7 - we have a requirement for power all the time - and this one installation is anticipated to provide perhaps 30 or 40 percent of our entire electricity load."
"I think in terms of what it can do for the area actually it's much more dramatic.
"We have a tremendous resource here in the Humber. It drains 20 percent of England, it's very tidal and so the potential to use tide generated power in the Humber is massive."