Public campaign to demolish council flats on Hull estate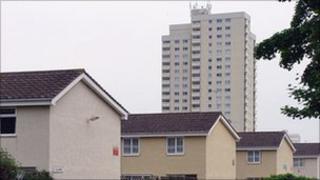 People living in tower blocks on Hull's Orchard Park estate are petitioning to have them demolished.
Some residents say the flats are not fit for purpose.
Laura Patterson, who started the petition, claimed she has had no proper heating and hot running water since she moved in four years ago.
The city council is currently reviewing the future of the flats after government money to provide new homes was cut.
Miss Patterson, who has a two-year-old boy, said the flat was not fit to bring up her child.
She said: "The windows are just black with damp. It's ridiculous. You can't put a [child] in here because it's so cold.
"Nothing comes out of the hot water tap in the bathroom and it's never ever worked since I moved in the flat.
"It's not right living in this state. They've already been condemned to come down.
"They were supposed to have all been done up by 2010. We're now in 2011 and they're still not even to a standard. We're supposed to have new fitted kitchens and bathrooms. We have had nothing done."
However, not all residents on the estate agreed with Miss Patterson.
Iconic
Marjorie Griffin, 86, was one of the original tenants in the Holmethorpe block.
She moved out of the flat to a secure bungalow two months ago but still thinks the tower blocks should stay.
She said: "I think they look terrific and always have done. I always thought 'I'm home' and they are very nice flats inside.
"They just [needed to be] kept up-to-date with the refurbishment."
The future of the high-rise flats is currently under review, which is expected to be completed by the end of September.
About 700 council-owned flats on the estate are being assessed.
Councillor John Black, who is responsible for managing local housing, said: "I think it's likely that some blocks will come down but I also think it's unlikely that all of them will come down.
"Before the council decides whether or not to retain any of those blocks of flats, it's got to make sure that it has got the money to improve the properties to decent home standards."