Council offers abandoned car removal in Grimsby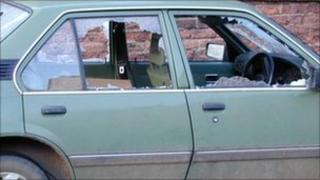 Free removal of abandoned cars is being offered by North East Lincolnshire Council in a week-long campaign.
The initiative, Rust in Peace, is designed to reduce the number of vehicles left on the streets of Grimsby and the surrounding area.
The council has received reports of 159 abandoned vehicles since the start of the year.
Owners who abandon cars can be subject to a £2500 fine and three months in prison.
Recent changes in waste-handling regulations mean scrapping a car has become more expensive because of restrictions on the disposal of tyres.
'Improve neighbourhoods'
The council said they were offering the service to help improve the environment in local neighbourhoods.
Councillor Dave Bolton, who is responsible for community safety, said the increasing cost of motoring was possibly encouraging some people to abandon their cars.
"I'm sure some people will try and get away without paying insurance and road tax by leaving their vehicles on their private land," he said.
Mr Bolton said he thought the week long scheme would reduce the problem.
"We hope that this campaign will help to reduce this type of activity and improve our neighbourhoods," he said.
"Residents just need to have all their paperwork in order and we will take care of the rest."