Humberside Police fears over young drink drivers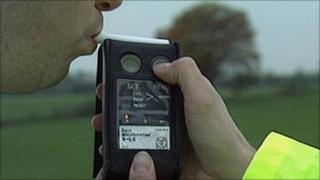 Humberside Police has said it is concerned about the number of younger drivers who have been caught drinking.
An anti drink-driving campaign in the summer showed that 11% of under 25-year-olds stopped failed a breath test.
This contrasts with just 7% of positive tests for those aged over 25.
Humberside Police said the results were a concern as about "a third of the most serious collisions involve under 25-year-olds."
Traffic management co-ordinator Neil Fillingham said: "The issue of concern for me and throughout the Humberside force area is the under-25s. It is a considerably higher rate than any other age group.
"It is hard to speculate about why this is, but there is definitely a big problem of young people drinking and driving. It is something we have identified, not just last Christmas but in other previous campaigns."
During the campaign a total of 2,125 drivers were breath tested in the Humberside force area during June and July.
Mr Fillingham said the police were involved in a variety of initiatives to try and improve the safety of younger drivers, including education courses instead of prosecution for those caught committing minor traffic offences.