Ambulance 999 call changes "putting lives at risk"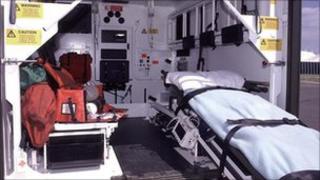 A change in how Yorkshire Ambulance Service responds to emergency calls is "putting lives at risk", a union said.
The service has started sending some ambulances to 999 calls staffed by crews with basic life-support skills, rather than fully-qualified paramedics.
Ray Gray, regional organiser for Unison, described it as "an incredibly high-risk strategy".
The ambulance service trust said it was "improving services for patients."
The crews are drawn from staff working on the trust's accident and emergency support unit, who normally transfer patients between hospitals.
The trust said that in the Hull and East Yorkshire region, one of the newly-staffed units was on duty at night, and two during the day.
Mr Gray described the crews as "advanced first-aiders" and said they were not appropriate for some emergency situations.
'Important place'
He said: "They can clinically assess patients, but they can't do things like give drugs or anything like that. So, if you go to a road accident for example they're not the people you need to turn out for it.
"They have a very important place in the ambulance service, but turning out for 999 calls is not it."
Mr Gray said the ambulance trust did not consult with the union before implementing the change. He wants a meeting with the chief executive.
"We need to do something quickly, because I do think it is putting lives at risk and the longer we do this the more chance there is of an incident occurring," he said.
Vince Larvin, assistant director of operations at Yorkshire Ambulance Service, said A&E support crews were trained in resucitation and equipped with oxygen and a defibrillator.
"Similarly, when they are closest to a medical emergency, such as heart attack, collapse or breathing difficulties, they can provide initial treatment to patients until the ambulance clinicians arrive," he said.
"We know that in many medical emergencies the first few minutes are critical and if effective treatment can be performed, lives will be saved and the risk of disability reduced. Our A&E Support crews can perform this role in the same way that our Community First Responders do, so it makes sense to utilise their skills in this way."