Flamborough beach launch for youth eco-play Slick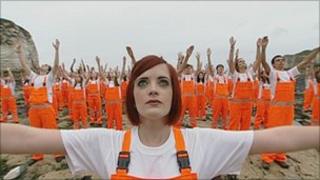 The National Youth Theatre of Great Britain has launched its latest play underneath the cliffs at Flamborough Head.
More than 200 young actors donned bright orange jump-suits and performed a choreographed dance routine on the beach.
The company was promoting its play Slick, which tackles environmental issues including global warming.
The group will perform the work in Yorkshire next month.
Actors auditioned from all over the country. One of the leads, Sophie Wardlow, said the identical orange outfits were an important part of the play.
Bemused spectators
She said: "It's about uniformity, which is an epic vision, really.
"To create an image that everyone is going to look at and say: 'Wow, what are they doing?'
"And then hopefully from that they can draw on the project that we're doing and the points we are trying to bring about the environment."
The performance bemused many of the locals watching from the cliff-top.
One spectator said: "I thought actually they were to do with the RNLI.
"I thought it was them training. But, it's quite interesting.
"You look and all you can see is bright orange. It's quite good, actually."