East coast resorts report big rise in visitor numbers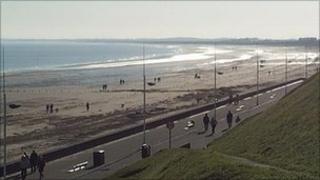 The number of visitors to UK holiday resorts has risen by 21% in the last year, according to a new report.
The survey by motoring and leisure association CSMA Club said that holidaymakers were predicted to spend £9 billion at the seaside this year.
Bridlington and Skegness are both listed in the top 20 fastest-growing resorts.
One hotelier in Bridlington said the rise was down to people looking for value for money.
Lou Sittler, who runs the Swallow Hotel on Bridlington seafront, said he had seen reservations rise by about 300% compared with last year. He put the increase down to new investment in the town's attractions.
He said: "There are a lot of things going on in Bridlington. Things are improving, the Spa and the surroundings of the Spa. People see that something is going on. There is progress and people appreciate that."
The report says that as well as providing the traditional bucket-and-spade holidays, seaside resorts are also attracting increasingly "high-end" tourists with "upmarket boutiques, antique shops, art galleries and Michelin-starred restaurants".
Skegness on the Lincolnshire coast is listed as the seventh fastest-growing holiday resort in the UK.
The town has introduced a series of new events over the last few years, such as the Seas art festivals which runs in late September.
Councillor Doreen Stephenson. leader of East Lindsey District Council, said the new events were important in boosting visitor numbers.
She said: "We need to be working very hard with local businesses, create jobs and look into opportunities for everyone."