Hull University bid for renewable energy 'tech centre'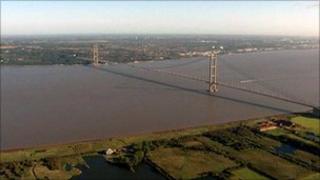 Plans to make the Humber area the UK's leading centre in the renewable industry are being proposed by the University of Hull.
The technology and innovation centre (TIC) will focus on developing technologies for offshore wind, wave and tidal power.
It will allow businesses to access equipment and expertise on an international scale.
The university said the Humber region is "best placed" for the centre.
Professor Stephanie Haywood, director of The Centre for Adaptive Sciences and Sustainability at the university, said: "We think the Humber is the best place to put it because of the [future] off-shore developments in [the area].
"Some major manufacturers will be coming here. The supply chain will naturally gravitate towards this region and we feel that we've got expertise on the research side that we can feed in to the technology and innovation centre, in tidal energy in particular."
The technology and innovation centre (TIC) is a national £200m programme launched by the government to encourage the development of new technologies and growth in economy.
Six centres will be built across the UK all specialising in specific technology areas.
A decision on the offshore renewable energy centre will be made before December 2011. If approved the centre is expected to be open in July 2012.