Local bands take the stage at city's Freedom Festival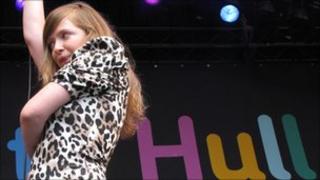 Local musicians will be taking to the stage at Hull's Freedom Festival this weekend.
Stages will be set up in the Fruit Market, in the heart of Hull Marina, where unsigned artists will perform.
As well as playing on two main stages, musicians will also play in warehouses turned into makeshift venues for the event.
The warehouse gigs will be hosted by Hull's live music night The Sesh.
Local musicians essential to Freedom Festival
When the Freedom Festival first launched in Hull in 2007 as part of the Wilberforce bicentenary celebrations, local musicians played a peripheral role. But this year, they form a core part of the festival programme.
Mark Page hosts Hull's successful weekly live music night for unsigned bands, The Sesh. He's delighted that local talent is getting this opportunity.
"With the festival being down-sized this year due to funding restrictions, it's only right that Hull's home-grown stars have their chance," he said.
"I have no doubt that they will shine over the weekend of Freedom and go on to prove that we, as a city, have our own major stars."
Initially, just a dozen local acts were scheduled to play on two main stages adjacent to the Marina including respected local bands The Neat and Man Made Noise. They will play alongside more established artists such as The Baghdaddies and John Cooper Clark.
But now, The Sesh's Warehouse Project on Pier Street will be featuring over 30 local artists including electronica producer endoflevelbaddie who played on the BBC Introducing stages at Leeds and Reading festivals in 2010.
The Sesh Warehouse Project
The Warehouse Project will also give a platform to performers recommended by Hull's Young People's Project, The Warren. Its arts development worker Stewart Baxter is pleased that local bands are being included in what is a major festival for Hull.
"Freedom has put Hull on the festival map," he said, "At a time like this, we need a mostly free festival where we can all get together and celebrate music and arts. It's an essential part of helping us stay positive."
"Having a great local presence at Hull's major festival is vital. The city is proud to support local talent so it only makes sense to be part of something so great."
Among the local bands playing over the weekend is Little Switzerland. Front man Simon Binks said: "Freedom Festival is without a doubt the biggest gig in the calendar for Hull. It's an honour to share the stage with signed bands as well as bringing together some of Hull's best in one melting pot. As a new band playing Freedom, it's a great opportunity to get our music out and gain some new fans."
Freedom Festival's 'Freedom Quarter' in the Fruit Market area of the city around Humber Street opens on Friday 2nd September at 5.30pm. It continues on Saturday 3rd September from 12:00.
There are further music and arts events, some of them ticketed in Queens Gardens and at Hull City Hall.
Little Switzerland are live in session on BBC Introducing on Radio Humberside on Sunday 4th September from 8pm on 95.9fm and online at www.bbc.co.uk/humberside