Redundancies at Britspace building firm in Gilberdyke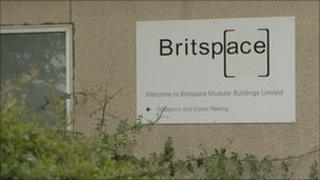 Administrators at an East Yorkshire building company have announced more than 200 redundancies after failing to find a buyer for the firm.
The workers at Britspace in Gilberdyke were sent home on Monday 15 August after the company called in administrators.
The company supplies the building industry with ready-made modular structures.
One worker described the news as "devastating".
A small number of the 225 workers will keep their jobs to finish existing contracts. Staff were informed of the redundancies in a mass meeting.
'Extremely disappointing'
One of the administrators, David Thornhill from FRP Advisory LLP, said despite talking to a number of potential buyers over the weekend a deal could not be agreed to sell the business as a going concern.
"It's extremely disappointing to us because we did have a significant amount of interest, he said.
"We concluded last night that we didn't think that we were going to be successful and that we didn't think it was fair to keep the employees hanging on any longer."
One of the redundant workers, Colin Sellers, said the idea of looking for a new job was "daunting."
He said: "I'm gutted - I've been doing something that I've known for 20 years and I am going to have to find a new career, try and do something else."