Goole floods: Councillors call for compensation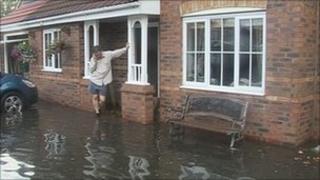 Three East Riding councillors are calling for compensation for residents from the local water company following the Goole flash floods.
In a letter to Yorkshire Water, Labour councillors Pat O'Neil, Mally Boatman and Keith Moore asked the company to help uninsured flood victims.
Yorkshire Water has admitted that its pumping station failed.
Mr Boatman said more than 50 homes were thought to have been be affected by the floods.
He said: "A lot of people's houses were damaged because of that and we want compensation for the people that were unable to get insurance.
"Ideally it would be nice to get everything replaced that they've lost. At the end of the day we just want some help to get these people back to some sort of normality."
An investigation into what happened is currently under way.
In a statement, Yorkshire Water said: "The drainage system in Goole, as with other areas of the UK, is very complex.
"We, along with other relevant agencies, are assisting the East Riding of Yorkshire Council with their investigations. It is essential that we all understand how the entire system coped with the exceptional rainfall.
"Whilst these investigations are on-going, it would be inappropriate for Yorkshire Water to comment on matters [of] compensation."