Pupils in Hull achieve city's best ever GCSE results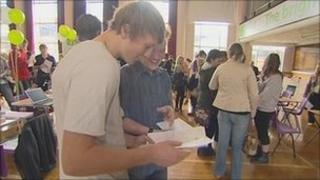 Pupils at Hull schools have recorded the city's highest ever GCSE results, with 45.3% of pupils achieving five A*-C grades including English and maths.
The results mark the third consecutive year of improvement, with the number of pupils achieving the grade having risen by more than 15% since 2008.
The city council is aiming to hit the national target of 50% next year.
The councillor responsible for education said the results showed that "Hull really is on the up".
Hull schools also saw an increase in overall GCSE results. The number of students achieving five A*-Cs overall has increased to 81%, above last year's national average of 75%.
In 2008 Hull found itself bottom of the league table of 151 English local authorities, with just 29.6% of pupils reaching the government's "gold standard" of five A*-C GCSEs including English and maths.
'Highest we've seen'
Hull City Council's head of localities and learning, Vanessa Harvey-Samuel, hailed the improvement.
She said: "Overall achievement across the city is the highest we've seen and many schools have achieved their best ever results.
"More young people are achieving than ever before and today we want to celebrate their success and congratulate them.
"These results show that we are well on the way to achieving our goals and that we can consistently improve each year.
"Collectively, as a city, we now need to build on this success, working closely with schools, key partners, businesses, colleges and families to promote aspiration and learn from what's gone well to keep improving results."