Case settled after Hull man's air hose backside injury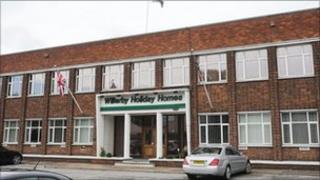 Legal action by an electrician who was left with internal injuries after an air hose went up his backside at a factory in Hull has been halted.
Gareth Durrant was working at Willerby Holiday Homes last July when the hose was allegedly blasted up his shorts and into his anus by a colleague.
He under went emergency surgery and has been unable to work since.
A civil compensation claim was halted after both sides reached a settlement, Hull County Court was told.
Solicitors said a condition of the agreement was that the details could not be disclosed.
The court was told Mr Durrant was working in a plant making static caravans when the compressed air hose, carrying 300lb per square inch, was blasted at him in a "dangerous and foolish" prank.
The incident left him with a six-inch tear in his bowel and severe damage to his intestines.
The court was told he still suffers stomach pains as well as depression and panic attacks.
Mr Durrant said: "I did not expect what I got that day and I did not deserve what I got that day."
'Bit of a prankster'
The court heard he was wiring a caravan and was working off the ground with two colleagues below him.
He said: "I was just concentrating on doing my job and I just felt an absolute gush of wind blow through my anus."
The court was told Daniel Robinson was holding the pressurised hose when Mr Durrant turned to him and told him not to pass it to colleague Adam Herring.
When Mr Durrant was asked why, he replied: "He's a bit of a prankster."
Michael Jones, representing Willerby Holiday Homes, said the injuries were caused by the "foolish act of Mr Herring outside the course of his employment".
Mr Jones suggested there had been an "air of joking going on" in the moments before the prank took place, which Mr Durrant accepted.
Lawyers said the Health and Safety Executive was investigating the incident which could still result in criminal charges.