Bridlington Jungle River ride: woman and girl injured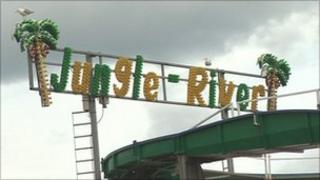 A woman and her four-year-old granddaughter remain in hospital after being injured on a ride at an East Yorkshire seaside resort.
The 58-year-old woman suffered severe leg injuries on the Jungle River log flume ride on the seafront in Bridlington on Sunday afternoon.
She was taken to Hull Royal Infirmary, while the girl was taken to Castle Hill Hospital with cuts to her legs.
Police said the pair were visiting the resort from the South Yorkshire area.
Their injuries were not believed to be life-threatening, officers added.
Police said earlier reports that the woman had had her leg amputated were incorrect.
Witnesses described seeing the ride jam on its rails then restart, "flipping" them from the carriage.
Rescuers from the Bridlington Coastguard worked to clear enough space in the crowd for the air ambulance helicopter to land.
An investigation into the accident has been launched by the Health and Safety Executive and Humberside Police.