Kasey Dixon-Grainger drag race death: father saw crash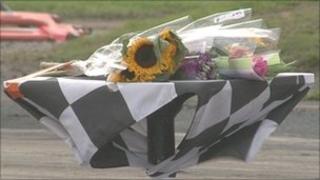 A 23-year-old drag racer died in a 130mph crash as his father followed in a car behind, it has emerged.
Kasey Dixon-Grainger, from Billingham, Cleveland, lost control of his car after crossing the finish line at the event at York Raceway on Sunday.
Event organiser Steve Murty said: "His father was actually following the race car in a road car to collect the driver after his run.
"He was following down the course as the accident unfolded in front of him."
The experienced racer's mother and brother were also at the event, he said.
Mr Murty said a paramedic and fully trained fire staff unit were on the scene immediately but despite resuscitation attempts Mr Dixon-Grainger died.
'Community in shock'
A Humberside Police spokesman said two cars took part in the race but only one vehicle crashed.
"It would appear that two cars crossed the line at the end of a drag race," the spokeswoman said.
"One of those cars stopped, however the other continued on across the finishing line. It then appears to have rolled and a small fire started.
"Sadly the driver, who was the sole occupant of the vehicle, died."
Mr Murty said the the tragedy at the course at Melbourne airfield near Pocklington in East Yorkshire had left the close-knit drag racing community in shock.
"It is a relatively small sport so everybody knows everybody else, everybody is very close and yesterday was devastating," said Mr Murty.
About 200 cars were involved in the bank holiday meeting, which was continuing on Monday despite the crash.
"All the drivers brought their cars out on to the track as a mark of respect," said Mr Murty. "All 200 cars were out on the track, driving slowly at the same time which we've never had before."
He said the cause of the crash was now the subject of a "very thorough" investigation by police and health and safety officials.