Humber Coastguard issue warning after girl's cliff fall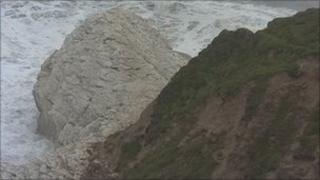 Humber Coastguard has issued a warning to walkers after a girl broke both her ankles falling off a cliff on Monday.
The 12-year-old from Hull was walking with her family on a cliff-top path near Flamborough, when she fell and injured herself on the rocks below.
The girl was airlifted to Scarborough Hospital by a helicopter from RAF Leaconfield.
The coastguard said that the recent wet weather had made the cliffs "slippy and more liable to crumble underfoot".
The girl, who has not been named, slipped off chalk cliffs surrounding Little Thornwick Bay, near Flamborough Head in East Yorkshire on Monday morning.
Her mother ran to a nearby cafe and called the emergency services.
A coastguard rescue team and a paramedic assessed the girl's injuries and called in the RAF helicopter, which flew the girl and her mother to hospital.
Humber Coastguard said it was the third fall from the cliffs at Little Thornwick Bay this year.