Exhibition documents freedom of slave Venture Smith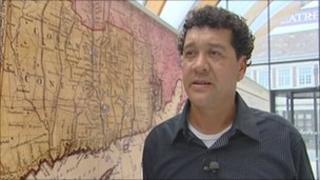 The life of an enslaved African prince who bought his freedom is documented in a new exhibition.
Descendants of Venture Smith opened the exhibition, Making Freedom, which is on show at the Hull History Centre.
It was previously exhibited in Capitol Hill, Washington DC and this is the first time it is being shown outside the United States.
Floyd Henry, a direct descendant, said: "It's more than race, it's a story of overcoming obstacles against all odds."
Exhumed body
He added: "It's an amazing story and it should be told."
Venture Smith, originally named Broteer Furro, was a royal prince from West Africa who was kidnapped when he was a child and sold into slavery in the 18th Century.
He was taken to the US by the slave trade and, after 30 years, had bought his way out of slavery.
Smith was one of the few slaves who sought liberation by purchasing his own freedom and those of his wife and four children. He went on to accumulate property and wealth.
His life story was published in 1798. Seven years later, he died at the age of 77 and his remains were buried in Connecticut.
The exhibition is a result of the research work carried out in 2007 by scientists from universities in Hull and Connecticut.
It has been organised by the two universities and the charity, Beecher House Centre for the study of Equal Rights in Connecticut, which was also involved in the research.
Prof David Richardson, director of Wilberforce Institute for the study of Slavery and Emancipation (WISE) at the University of Hull, was among the scientists that exhumed Smith's body to investigate his origins.
He said: "The life of Venture Smith… is an extraordinarily uplifting and inspiring story of human courage and resolve in the face of indignity and oppression. Its message is a universal one."
Making Freedom is running at the Hull History Centre until Monday 31 October.