Illegal tobacco sales hit shop profits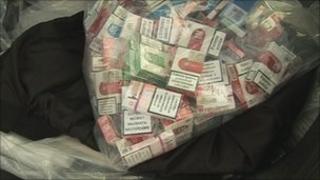 Shopkeepers in East Yorkshire and northern Lincolnshire claim that an increase in illegal tobacco sales is affecting their business.
New figures from the Tobacco Retailers Alliance claim that 62% of retailers know of people selling smuggled or counterfeit tobacco in the region.
One Hull newsagent said unless something was done his business might not survive.
Trading standards said councils were working to reduce the problem.
Muhammad Imran, who runs a newsagents in west Hull, said that without action his shop "can't survive in the near future".
Mr Imran said that some customers were asking for brands not legally available in the UK, a sign, he claimed, that smuggled brands were becoming more popular.
He said: "It is affecting us as well because we pay all the taxes and the people walking in the street and selling the £3 cigarettes they don't pay any tax on them or anything, but they are affecting our business."
Mark Keal, divisional manager for trading standards in Lincolnshire, said local councils were working with police and HMRC to try and combat the problem.
He said that high duty on tobacco and the economic downturn often encouraged people to try and cut costs by buying illegal cigarettes.
He said: "In a time of recession people are looking for a cheap deal, and this isn't necessarily the bargain you are expecting.
"There are problems with the content of the tobacco. Rat droppings and sawdust have been found in the product itself."