Spurn Point road temporarily closed to vehicles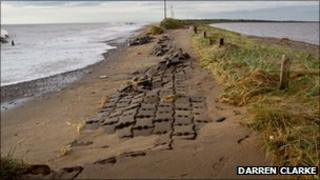 The road leading to Spurn Point has been temporarily closed to public vehicles until further notice.
Yorkshire Wildlife Trust (YWT), which manages the nature reserve at Spurn, closed the road following high tides last Sunday.
Tides measuring 7.6m (25ft) in height washed up large amounts of sand from the beach and damaged sections of the narrow road.
Drivers can only access one third of the three-mile long road.
'More sand'
However, the entire road is fully accessible to pedestrians.
Andrew Gibson, the nature reserves officer at Spurn, said: "The weather system on Sunday pushed the tide up higher than it would normally have been [predicted for this time of year] and that forced the water on to the road.
"What that's continued to do on each tide since Sunday is take a little bit more sand and the current position is we do not have a driveable road down to the point."
Residents and workers with special vehicles can still get access to Spurn Point at limited times during the day.
The road is expected to be rebuilt next week.