Protest mounted over Saltend odour problem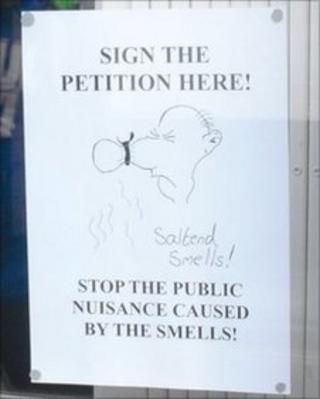 Residents upset by odours from a water treatment plant in East Yorkshire have been holding protests about the smell.
The facility in Saltend, to the east of Hull, is blamed for a smell of "rotten eggs" that affects the area.
Yorkshire Water, which owns the plant, has said it aims to spend £3.5m on an odour control unit which would be working by the end of the year.
An online petition urging Yorkshire Water to act has been signed by more than 1,000 people.
Earlier this month, the mayor of Hedon, Anne Suggitt, said the problem had been around for more than a decade and claimed it was making residents physically sick.
Yorkshire Water has acknowledged the plant was to blame for the smell and said it was investing in new technology which would help reduce the odour.
The firm has now said new multi-million pound unit is to be built in Saltend to control odour from the waste water treatment plant.
The sewage plant treats up to 40 million gallons of waste water every day - enough to fill 70 Olympic swimming pools.
Two protests were taking place, one at a sports field at Paull and another at Hedon Market Place.